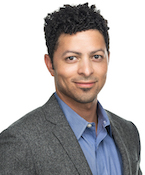 New York (July 13, 2021) – The ODAC Dermatology, Aesthetic & Surgical Conference (ODAC) announced the appointment of Omar N. Qutub, MD, FAAD, to the position of director of equity, diversity and inclusion (EDI). Dr. Qutub is a medical and cosmetic dermatologist in private practice in Portland, Oregon. He will hold the position for the 2022 and 2023 conferences.
"We were impressed with Dr. Qutub's innovative and impactful ideas for how to make ODAC more inclusive and diverse," said Shelley Tanner, CEO and president of SanovaWorks, which produces ODAC. "Dr. Qutub's passion for equity, inclusion and diversity in medicine is action-oriented and inspiring."
In this role, Dr. Qutub will work closely with the ODAC Advisory Board and ODAC staff to promote the development and implementation of educational offerings aimed at improving cultural competence, diversity and equity within the field of dermatology. In addition, he will assist in creating a conference experience that is conducive to a collaborative learning environment that enhances professional development and advancement for all.
"With a focus on diversity and inclusion, I wholeheartedly believe that we can make strides as a specialty to serve all populations more proactively and thus more effectively," said Dr. Qutub. "Serving as the director of EDI will invigorate what I view as a valuable aesthetic and medical training ground for young and experienced dermatologists alike."
A graduate of Howard University College of Medicine, Dr. Qutub completed his dermatology residency at Howard University Hospital and the Veterans Affairs Medical Center in Washington, D.C. "At Howard, our mission was to serve the underserved, and to do so just as we would serve any other population; a lesson never once lost on me to this day," said Dr. Qutub.
ODAC, which was founded in 2003, historically attracts nearly 800 dermatology physicians and allied health professionals each year. The 2022 event will take place January 14-17 at the Rosen Shingle Creek in Orlando. ODAC is a product of SanovaWorks, publisher of the Journal of Drugs in Dermatology (JDD) and producer of the Skin of Color Update conference.
###