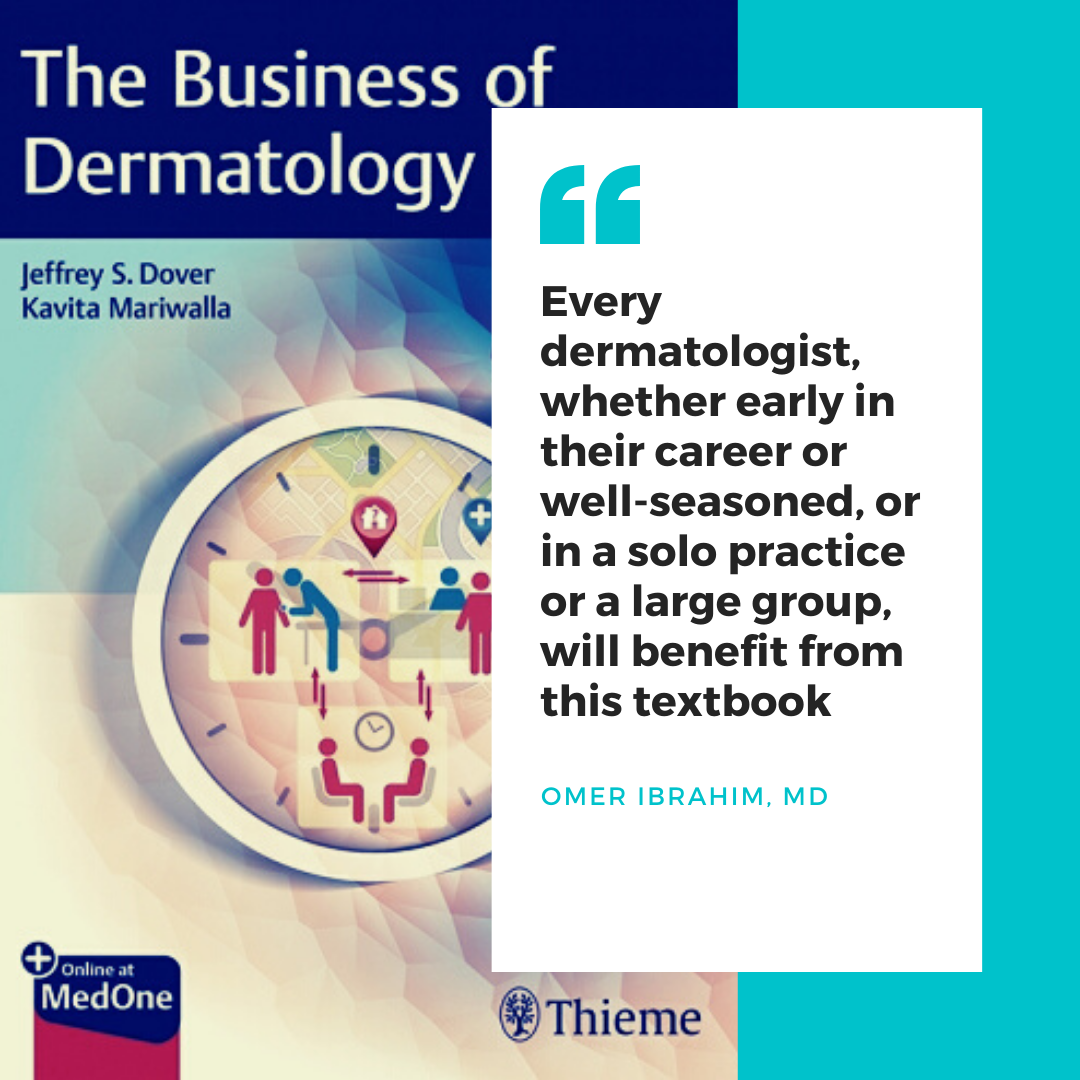 Business intellect, a vital aspect of managing a practice, is not taught in residency. From the infancy of their training, dermatologists are trained to think broadly and scrupulously, using each clue, each corporeal sense, and each available tool to accurately diagnose and manage a plethora of cutaneous conditions. After residency, dermatologists set out armed with the knowledge and drive to deliver expert care to their future patients. However, despite their education and best intentions, lack of business acumen can hinder even the brightest and most motivated of practitioners. In order to enlighten oneself in the complicated field of business management, clinicians are left to fend for themselves, often learning as they go, sometimes making unnecessary mistakes, and adjusting their business practices reactively. Retrospective "trial and error" learning is time-consuming, cumbersome, and costly. Why not short track and get the goods without the trial and error, making costly mistakes and taking years. The new book, The Business of Dermatology is a cornerstone achievement in the standardization of business education for dermatologists.
Edited by Drs. Jeffrey S. Dover and Kavita Mariwalla, and authored by impressive experts in the field, The Business of Dermatology offers a comprehensive guide to opening, maintaining, and sustaining a practice. To start, the power of this textbook fundamentally lies in the experience and scope of its authorship. The authors were hand-selected by the editors ensuring that each chapter was written by a tried and true expert in that subject. Unlike other textbooks in the field of business management and administration that are primarily written by individuals from the business world, some of whom have no insight into the inner machinations of the medical world, or hands-on experience, the authors of this book are well-known, respected dermatologists that hail from thriving practices of their own. The reader has an unprecedented opportunity to learn from the firsthand experiences of top authorities who live and breathe dermatology. Using conversational prose, the authors depict their experiences, trials, and errors, employing specific real-world examples and scenarios while tackling each subject.
A notable forte of The Business of Dermatology is the sheer breadth and range of topics discussed in the textbook by medical as well as surgical dermatologists. Opening and managing a practice is a daunting endeavor with twists, turns, and hidden hurdles that one cannot foresee until stumbling across them. The Business of Dermatology unveils those twists, turns, and hurdles for the reader, taking the "guessing game" out of the equation. Fifty-five chapters elucidate every aspect of running a practice, covering all practice-relevant topics, including office space and equipment, managing financials, diverse practice models, human resources, employment considerations, patient issues, pricing, essential surgical tools/supplies, marketing, and much more. The Business of Dermatology lays bare every facet of handling a dermatologic practice, so much so that even a well-run, seasoned practice stands to learn new tools and tips to elevate itself to a higher level.
And now more than ever in the "Time of Covid" we are in desperate need of information from The Business of Dermatology. Many of us are inventing the wheel with the significant changes that are occurring in Dermatology, and the practice of our specialty.
The wealth of knowledge endowed in each chapter is written and formatted in such a style that renders each chapter extremely easy to read and comprehend. First, the prose used in the chapters is conversational – as such, the reader is fully immersed in each topic as if he/she were having a face-to-face chat with the authors. Furthermore, references are used only when absolutely necessary. The reader is not bogged down by superfluous references and discussions that may dim the vital discussion points of the chapters. Finally, embedded within each chapter are practical tips that are immediately implementable and a Top Ten list that highlights the key take-home points, making "reading on the run" possible. The novice practice owner need not fear the residency dogma of "trying to drink from a gushing fire hydrant" with this easy-to-read, catchy and focused textbook.