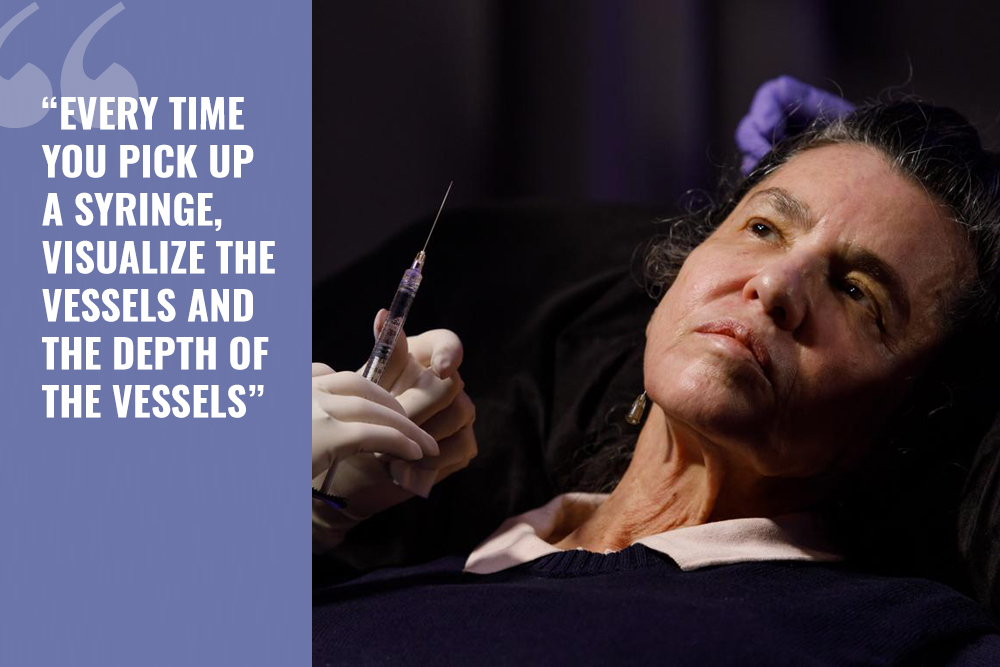 Source: Next Steps in Derm
This information was presented by Dr. Susan Weinkle at the 16th Annual ODAC Dermatology, Aesthetics and Surgical Conference held January 18th-21st, 2019 in Orlando, FL. The highlights from her lecture and live demonstrations were written and compiled by Dr Nikhil Shyam.
Dr. Susan Weinkle, an expert in the field of aesthetic and surgical dermatology, shares important anatomical concepts to consider when using neurotoxins and fillers safely.
The face can be split into 3 zones – the upper 1/3rd, the middle 1/3rd and the lower 1/3rd. Knowing the important vessels and nerves in each zone as well as their corresponding depth in the skin is crucial in order to minimize injury and utilize a safe technique when injecting neurotoxins and fillers.
Figure 1: D corresponds to areas where deeper injections are safer to avoid vasculature and nerves. S corresponds to areas where superficial (intradermal injections) are safer to avoid vasculature and nerves. Vessels shown are cartoon depictions of some of the more common arteries including the supraorbital, supratrochlear, superficial temporal, facial and superior and inferior labial arteries. Also depicted are the supraorbital, infraorbital and mental foramen that are located along the medial limbus.
Important Landmarks for the Upper 1/3rd of the Face
A line drawn vertically along the medial limbus denotes the anatomical locations of the supraorbital, infraorbital and mental foramen.
The supraorbital notch or foramen is the exit aperture for the supraorbital neurovascular bundle (NVB). While the vessels here initially lie deep in the skin, they become more superficial about 1.5 cm superior to the supraorbital foramen as they supply the forehead.
The supratrochlear NVB lies about 8-12 mm medial to the supraorbital NVB. The vessels are similarly deep initially and gradually become more superficial as they traverse superiorly to supply the forehead.
The supraorbital nerve, after exiting through its foramen, runs laterally and then superiorly about 1 cm medial to the temporal fusion line. It lies deep within the skin in this region.