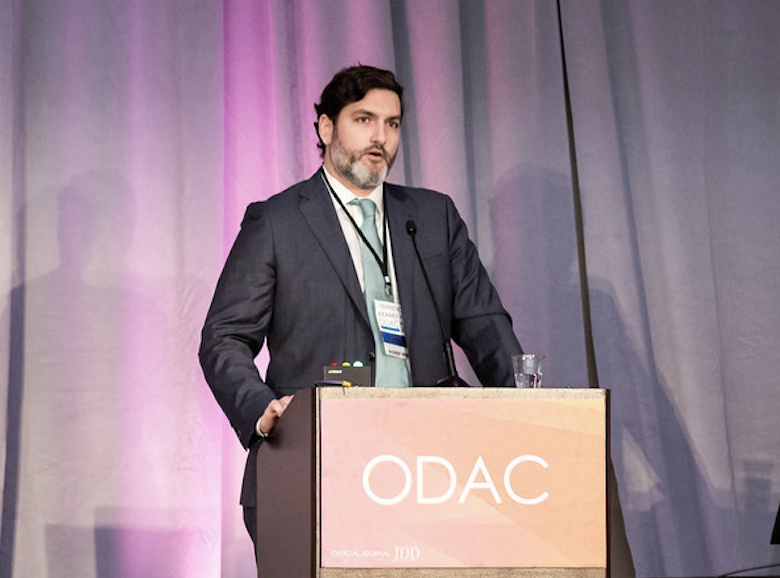 Source: The Dermatologist
The following is an excerpt from The Dermatologist article on Q&A with ODAC Dermatology, Aesthetic and Surgical conference faculty, Terrence Keaney, MD.  
More and more men are seeking cosmetic procedures to improve their appearance and slow the aging process. In addition to anatomical differences, men have different concerns about how they look compared with women. Terrence Keaney, MD, discussed these concerns and trends among male aesthetic patients, and also shared pearls for treating this patient population at ODAC Dermatology, Aesthetic and Surgical conference in Orlando, FL.
Dr Keaney is founder and director of SkinDC and an assistant clinical professor of dermatology at George Washington University School of Medicine.
The Dermatologist: What are some common trends among male aesthetic patients?
Dr Keaney: Like broader trends in aesthetics, there is no cookie cutter technique for treating men. Gender is just one data point, albeit a fairly important one because it affects biology, anatomy, behavioral expectations, etc. When evaluating a new cosmetic patient, gender, age, ethnicity, and other patient factors play a role in creating a customized treatment plan.
Understanding aesthetic procedures among male patients has not been well-studied and has not been on the top of many aesthetic providers minds, most likely because men occupy a smaller percentage of cosmetic patients. However, the number of men seeking minimally invasive procedures is growing.
As more men seek cosmetic treatment, it is important that physicians and practitioners know how to approach these patients from a treatment perspective, as well as how to discuss complications from these procedures because these scenarios may be different compared with female patients.
The Dermatologist: What are some of the differences between male and female patients that dermatologists should keep in mind?
Dr Keaney: The number one difference between men and women is anatomy. Anatomy really dictates how a provider will perform a procedure, especially fillers.
The facial anatomy of men is very different than women. For example, the distribution of fat is different between the sexes. Men have less subcutaneous fat in the face, especially in the medial cheeks and middle of the cheek, and do not have high cheekbones, which dictates where a filler would be placed. The apex of the cheek tends to be lower and more towards the middle in men, whereas the apex tends to be high and lateral in women and is considered a very feminine feature.
Behaviors, such as goals and expectations of cosmetic procedures, differ between men and women as well. Men care about different factors than women. Specifically, men worry about 3 areas: the hairline, eyeline, and jawline. When discussing aesthetic procedures and performing a full-face analysis of male patients, I often refer back to these 3 areas because I know men tend to worry about them the most.
However, this does not mean I do not use fillers on the cheeks or the mid-face. When I use a filler, I explain to the patient so they understand how this procedure may influence how their jaw looks or their eyes look. Otherwise, they may not be interested in that treatment option.
Other major concerns among men include hair loss and body contouring.