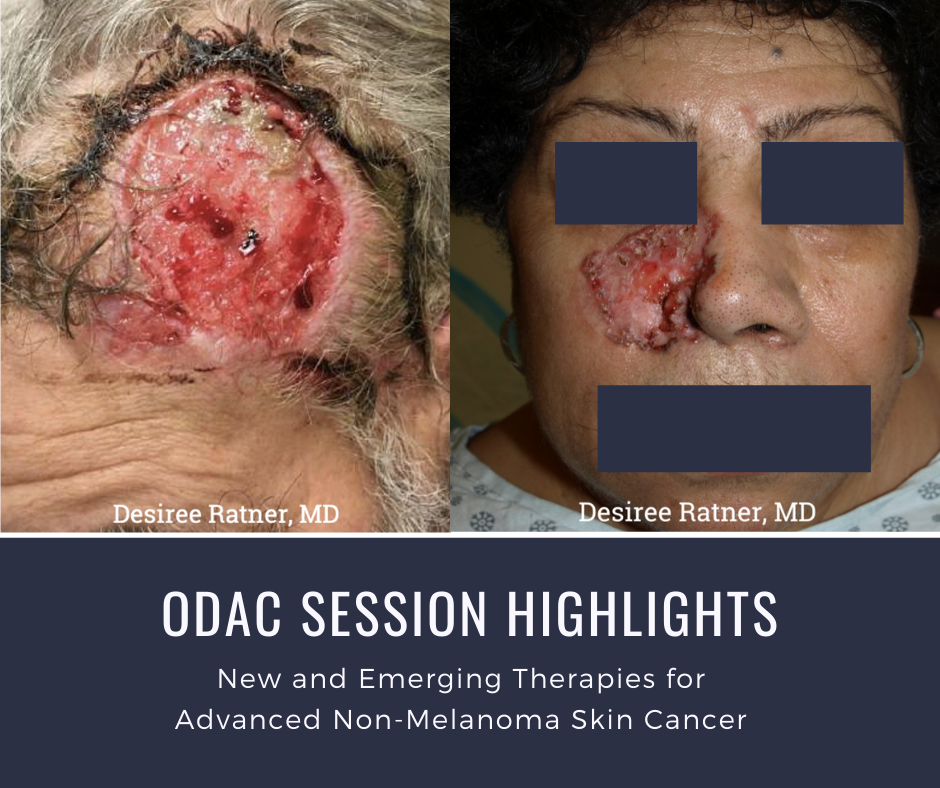 Source: Next Steps in Dermatology 
At the 17th Annual ODAC Dermatology, Aesthetic, and Surgical Conference (ODAC) held January 17-20 in Orlando, FL, Dr. Desiree Ratner led a discussion on new and emerging therapies for advanced non-melanoma skin cancer discussion.
Treatment Options
The session covered several treatments for patients including patidegib gel 2% and 4% applied once or twice daily in patients with basal cell carcinoma. Patidegib is a topical hedgehog inhibitor made by PellePharm and its mechanism of action is to block Smo signaling, thereby inhibiting the hedgehog pathway that contributes to the development of basal cell carcinomas. This treatment has several advantages in that it does not contribute to hair loss, taste loss, or muscle cramps. It has the potential to treat and mitigate facial basal cell carcinomas in basal cell nevus patients. It is being studied in randomized clinical trials enrolling patients with Gorlin's syndrome (basal cell nevus syndrome) in the United States and in Europe.
Hedgehog pathway inhibitor resistance is unusual but may occur as "rebound" tumor growth after drug cessation or secondarily after long-term smoothened inhibitor therapy. Resistance to hedgehog pathway inhibitors is classified into primary and secondary resistance. Primary resistance has been postulated to bypass mechanisms of genes downstream of smoothened, such as the G497 W mutation. Secondary resistance in patients who showed an initial response has actually been thought to be due to de novo mutations located on regions in smoothened to which hedgehog pathway inhibitors bind or selective clonal expansion of minority clones in the pre-treated tumor. Further studies are definitely needed to elucidate what drives resistance to hedgehog pathway inhibitors and how basal cell carcinoma resistance may be overcome by other novel, emerging therapies.
Patient Cases
Dr. Ratner presented a number of interesting patient cases with advanced basal cell carcinomas sometimes so large that patients lose mobility and function of a body part or organ. In most cases, locally advanced BCCs respond well to oral hedgehog inhibitors, which can be used for long-term control or neoadjuvantly prior to surgery. In the case of one patient, an aggressive orbital BCC caused contraction of the tissues around his eye, such that he was not able to open it. Despite treatment with an oral hedgehog inhibitor, his tumor continued to grow, resulting in destruction of his orbit and locoregional metastasis.
Samples of his tumor and normal skin were sent to Stanford University, which performed whole exome sequencing. In the studies of these samples, it became evident that the tumor should have responded to vismodegib but had developed resistance due to another as yet unknown mechanism. Therapies designed to override resistance such as second-generation smoothened inhibitors are under development.