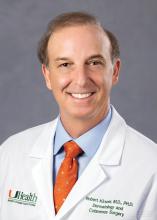 Source: Dermatology News
Another reason not to prescribe opioids for postoperative pain – besides potentially adding to the epidemic the nation – comes from evidence showing these agents can impair wound healing.
In addition, epidermal sutures to close dermatologic surgery sites may be unnecessary if deep suturing is done proficiently. These and other pearls to optimize wound closure were suggested by Robert S. Kirsner, MD, PhD, professor and chair of the department of dermatology and cutaneous surgery at the University of Miami.
Avoid opioids for postoperative pain
"We know the opioid epidemic is a big problem. An estimated 5-8 million Americans use them for chronic pain," Dr. Kirsner said at the Orlando Dermatology Aesthetic and Clinical Conference. "And there has been a steady increase in the use of illicit and prescription opioids."
Emerging evidence suggests opioids also impair wound healing (J Invest Dermatol. 2017;137:2646-9). This study of 715 patients with leg ulcers, for example, showed use of opioids the most strongly associated with nonhealing at 12 weeks. "We found if you took an opioid you were less likely to heal," Dr. Kirsner said. They found opioids significantly impaired healing, even when the investigators controlled for ulcer area, duration, and patient gender.