Free sneak peek! Pre-registration required.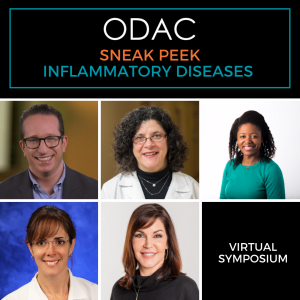 Thursday, December 3rd, 2020 | 5:00 – 7:05 PM ET
Join us for a free sneak peek of the 2021 ODAC Dermatology, Aesthetic & Surgical Conference! Our elite, world renowned faculty will present the Inflammatory Diseases Symposium featuring topics such as acne, psoriasis, atopic dermatitis, hidradenitis suppurativa, rosacea and more! Registration for the sneak peek is complimentary. Limited seats available, register today.
_______________________________________________________
Innovative Insights Into and Implications of Inflammatory Insults of the Integuments
What better way to lessen the blow of a global pandemic then with an aggressive alliteration? Well if that's not your cup of caffeine, certainly the incredible evidenced based and interactive pre-ODAC symposium on common inflammatory skin diseases with national experts will turn that melancholy into a good ol'educational jolly. Arm yourself with both the latest evidence and unique anecdotal experience of our experts. What's new and how to do? That's why we pulled together this faculty crew.
Symposium Moderator
Adam Friedman, MD
Acne: Changing Practices in a Changing Clinical Landscape
Jenna Lester, MD
NPF-AAD Psoriasis Management Guidelines: What you need to know
Abby Van Voorhees, MD
Atopic Dermatitis Update 2021
Adam Friedman, MD
Treatment of Hidradenitis Suppurativa in 2021 and Beyond 
Joslyn Kirby, MD
Treating Rosacea in 2021   
Julie Harper, MD
Live Q&A