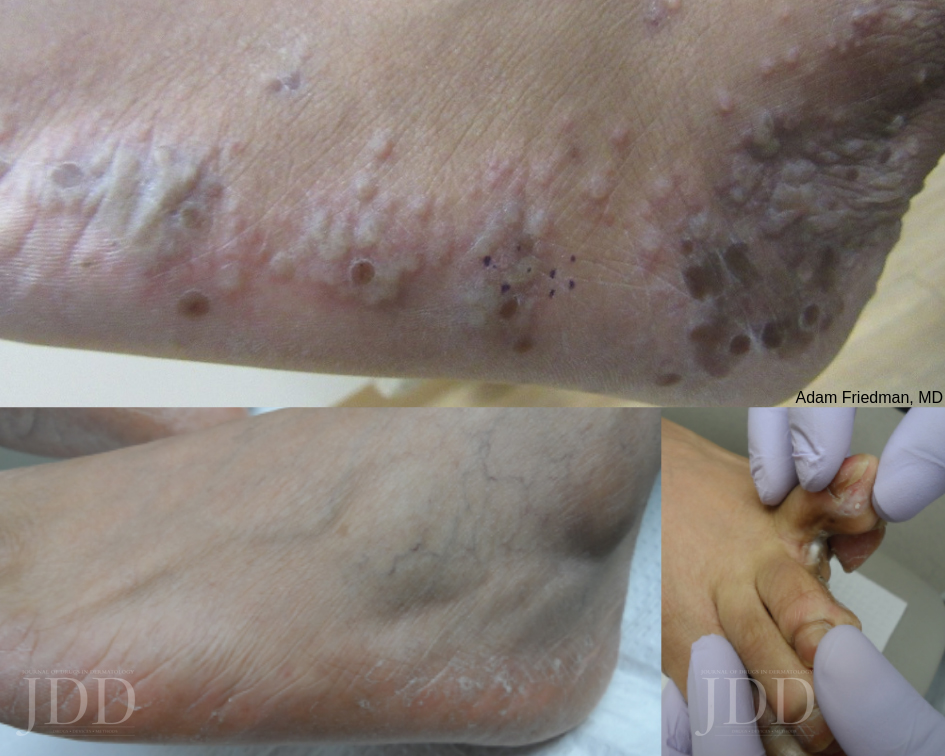 Source: Next Steps in Derm
This information was presented by Dr. Adam Friedman at the 16th Annual ODAC Dermatology, Aesthetics and Surgical Conference held January 18th-21st, 2019 in Orlando, FL.
Dermatophytosis constitutes a big chunk of "bread and butter" in dermatology.  In fact, an average of 4.1 million visits a year were due to dermatophytosis from 1995 to 2004! Nevertheless, these fungi can still stump the most seasoned dermatologist, and misdiagnosis can be surprisingly common. Dr. Adam Friedman, Professor, Interim Chair, and Program Director of Dermatology at George Washington School of Medicine and Health Sciences, recently presented interesting cases and practical pearls on how to diagnose and treat dermatophytosis. Here are some highlights.
Make the Diagnosis
Here's the golden rule: if there is scale, scrape it! KOH preparation is first line in diagnosis of dermatophytosis.  Do you follow this rule? A recent survey showed that the percentages of dermatologists who scrape when suspicious of dermatophytosis were only 20-30% (always) and 30-40% (very often). Next, histology can be helpful in diagnosing nail fungus and Majocci's granuloma (where KOH is usually negative).  Fungal culture be helpful to guide anti-fungal therapy, especially for tinea capitis in children. 
Tinea Pedis
Tinea pedis is the most common form of skin fungal infection, and there are 4 types: moccasin, interdigital, bullous, and ulcerative.
Don't forget that non-dermatophytes (S. dimidiatum; S. hyalinum) can cause identical findings!  Also, an exuberant dermatophytid (or "id") reaction, an inflammatory response to the fungal infection, can accompany findings of dermatophytosis. When you see a 2-hand-1-foot (or vice-versa) involvement, this can be another clue for diagnosing tinea pedis.
While topical azoles (econazole, other azoles) and allylamines (terbinafine, naftifine) and antifungal powder/spray weekly to shoes have been the mainstay treatment, there are some new topical options available.  Luliconazole 1% cream (daily for 2 week) for moist macerated web space; naftifine 2% gel and cream (daily for 2 week) for dry, scaling plaques; and urea 40% cream for moccasin tinea pedis have shown efficacy.
What about systemic anti-fungal therapy? The moccasin type and vesicular type may warrant oral terbinafine 250mg BID for 2-6 weeks and 2 weeks, respectively.  Since the vesicular type may have superimposed bacterial infection, an oral antibiotic may also be considered.
For more Tinea, click here.