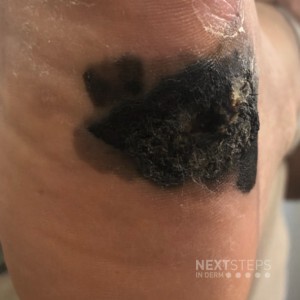 Source: Dermatology Times
Sentinel lymph node biopsy (SLNB) has classically been performed for regional disease control and to hopefully prevent disease metastasis; however, according to one expert, there has not been any good evidence to support this practice. As such, it is important for clinicians to focus on the evidence when planning the treatment and management of their advanced melanoma patients.
"Over the last decade or so, the role of SLNB has been changing, and there is no real consensus as to when to perform the procedure because it is a very rapidly changing field. The touted usefulness in survival benefit or prognosis of SLNB simply cannot be backed up by the available data, essentially rendering the appropriate use of SLNB in therapeutic limbo," said John Zitelli, M.D., clinical associate professor, departments of dermatology & otolaryngology, University of Pittsburgh Medical Center, Pittsburgh, Penn., who spoke at the Orlando Dermatology and Aesthetic Conference.
According to Dr. Zitelli, the theory that SLNB would provide a survival benefit was debunked with the MSLT-1 research study1 recently published in the New England Journal of Medicine, and the idea that the procedure was to be considered as the most accurate prognostic test was also shown to be untrue. There usually is no need to do a SLNB, Dr. Zitelli said. The Breslow thickness, as well as all of the presenting clinical pathological morphologic features, such as ulceration of the tumor, is a wealth of information that the clinician can use to contemplate appropriate further treatment and management of the patient. Many clinicians still prefer to perform SLNB, Dr. Zitelli said, reasoning that waiting until the tumor is palpable would likely be synonymous with greater complications.
"The premise is off, because if you're performing SLNB on a lot of people and the complication rate is low but the number of patients who are getting the procedure is high, the long-term complication rate in a group of people who you manage with SLNB actually have more complications than the smaller group of patients who have a complete node dissection from palpable disease," Dr. Zitelli said.
Controversy revolving around the role of SLNB and its true usefulness in melanoma therapy and management continues today. The current contemporary wisdom is that SLNB should be performed because the results could help determine which patients would be more amenable to adjuvant therapy.