The American Academy of Dermatology (AAD) 2021 has announced the cancelation of the annual meeting in March.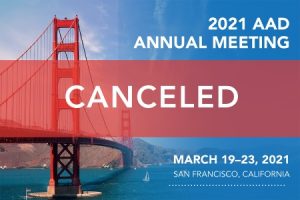 On November 23, 2020, a message was sent to all Academy members and all attendees registered for the 2021 Annual Meeting schedule for March 19 – 23, 2021 in San Francisco, California.
Like ODAC Dermatology Aesthetic and Surgical conference, the health and safety of attendees, faculty, and sponsors  comes  first.   Given the current situation with the pandemic, ODAC is committed to providing high-quality education in an engaging virtual format with top speakers and important topics.
Although we will miss seeing everyone in person at ODAC and the AAD 2021, we aim to provide a unique virtual experience that will continue to drive dermatology education and networking forward.
Experience ODAC virtually thought the free sneak peek Dec, 3rd, Resident Week Jan 8th and the full conference ODAC Jan. 14th.  ODAC offers a unique 100% live experience.  ODAC is not pre-recorded, offering hours of panels, CME, live polling and an enhanced attendee experience.